Freedom Session - 2019-2020
September 17, 2019 - March 10, 2020
$26 - 52
Dates & Times
Sep 17, 2019

7:00pm - 9:00pm

Sep 24, 2019

7:00pm - 9:00pm

Oct 1, 2019

7:00pm - 9:00pm

Oct 8, 2019

7:00pm - 9:00pm

Oct 15, 2019

7:00pm - 9:00pm

Oct 22, 2019

7:00pm - 9:00pm

Oct 29, 2019

7:00pm - 9:00pm

Nov 5, 2019

7:00pm - 9:00pm

Nov 12, 2019

7:00pm - 9:00pm

Nov 19, 2019

7:00pm - 9:00pm

Dec 3, 2019

7:00pm - 9:00pm

Dec 10, 2019

7:00pm - 9:00pm

Jan 7, 2020

7:00pm - 9:00pm

Jan 14, 2020

7:00pm - 9:00pm

Jan 21, 2020

7:00pm - 9:00pm

Jan 28, 2020

7:00pm - 9:00pm

Feb 4, 2020

7:00pm - 9:00pm

Feb 11, 2020

7:00pm - 9:00pm

Feb 18, 2020

7:00pm - 9:00pm

Feb 25, 2020

7:00pm - 9:00pm

Mar 10, 2020

7:00pm - 9:00pm

Show

all

less
Attendee Types
Book 1 (Sept-Nov)

$26

Book 2 (Dec-Mar)

$26

Books 1 & 2

$52
Details
Freedom Session is a healing-discipleship journey that uncovers the roots of pain in our lives and invites Jesus Christ to heal those areas of our hearts. Freedom Session deals with issues by freeing us from the things we use to attempt to escape the pain in our lives.
"It's fairly intensive, but it's worth it. It's like writing out your story and creating a different ending. The kind of ending that God prefers."

Ken Dyck | Founder of Freedom Session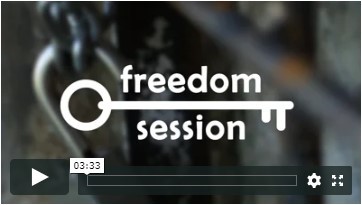 Freedom Session is divided into three workbooks that make up the course.
Books One and Two are both 10 weeks long and work through past or current hurts, behaviours or experiences that are preventing freedom in your life. After finishing these books we celebrate with a graduation and testimony evening.
Book Three is called Authentic Living and is recommended for Freedom Session graduates, but not required. It is a great discipleship tool that is open to anyone looking to live an authentic lifestyle, regardless of previous participation in Books One or Two of Freedom Session.